The DataMaster™ App
A complete, full-featured app offering a seamless relative humidity data collection and reporting system for your iPhone, iPad, or Android mobile device (Rapid RH®Bluetooth® Smart Reader required, and your mobile device must support Bluetooth® Low Energy technology*).

DataMaster™ Firmware Update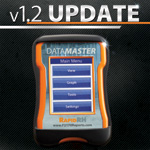 For all DataMasters™ purchased before August 1, 2014, please download the DataMaster™ v1.2 firmware. Installation instructions included.
Download: DataMaster™-Updates v1.2
DataMaster™ Desktop Application

Download: DataMaster™ Desktop App
Automatically update all your information from your DataMaster™ to your account on www.F2170reports.com. No need to log into any websites or zip up folders from your SD card. This program will seamlessly sync data from your DataMaster™, connected to your computer, to the website through a one-step desktop application.